BoscoERP offers complete Enterprse solutions to small businesses. It helps you streamline and automate your entire business in to ...
READ MORE +
MedSys B is comprehensive Hospital Management System for Health care domain. This end-to-end ERP software  streamlines the ...
READ MORE +
UniERP is comprehensive suite of modules that cover every function of your business  serving customers across India. All modules  ...
READ MORE +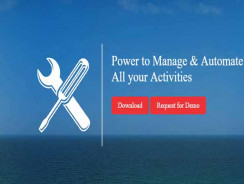 RujulERP provides designed with unique features that simplifies the business process of trader, retailers, distributors and ...
READ MORE +
Sage X3 is leading industrial manufacturing ERP system. It helps you rid of tedious and time-consuming business improvement ...
READ MORE +
AcTouch is leading ERP software created for small and medium size organizations to run and grow their business efficiently. This ...
READ MORE +
T FAT ERP system is robust, flexible, scalable set of highly advanced tools that helps companies to automate their business ...
READ MORE +
kanix Highrise ERP is India's first Construction ERP system for construction and contracting industry. It helps to compass all ...
READ MORE +
Krisol ERP for Paper industry is top comprehensive platform to manage all the functional requirement in the business processes of ...
READ MORE +
Focusi ERP is a revolutionary ERP System that integrates s business intelligence tools with traditional ERP implementations ...
READ MORE +