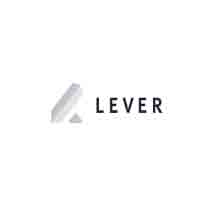 Lever recruiting is top recruitment software which streamlines the hiring process and simplifies the Applicant Tracking System.
Introduction to Lever Recruiting
Lever recruiting and applicant tracking system is for hiring teams to source, interview, and hire best candidates. Our team strives to set a new standards for enterprise software with modern, well-created , real-time apps. Since the ATS system of choice for Netflix, Eventbrite, Cirque Du SoleiI, Yelp, change.org, and thousands more leading organizations, Lever means you hire the top hiring together.
Key features of our recruiting software
Go beyond applicants
Recruit humans,not resumes
Grow your talent database
Delight your candidates
Fall in love with better scheduling
Meet your hiring managers where they work
Master your to-do list
Make great hiring decisions and reduce bias
Drive improvements with data, not your gut