Enterprise IQ is a manufacturing ERP Software specially built for manufacturing industry. This integrated ERP and manufacturing ...
READ MORE +
Wings ERP is is a robust Accounting software that enables companies  to manage their financial transactions. Our ERP software is ...
READ MORE +
Simplify ERP is leading ERP system for real estate and construction business. This Enterprise Resource Planning System is ...
READ MORE +
Reach ERP is cloud-based business automation tool specially designed to manufacturing company. Our ERP Software connects all ...
READ MORE +
RootStock is leading cloud-based ERP system built on sales force technology. This erp software helps manufacturing. Distribution, ...
READ MORE +
Mx ERP software is an Enterprise Resource Planning software solution for the manufacturers and traders. This  cloud-based system ...
READ MORE +
ERPX.in is a cutting-edge and comprehensive ERP system that integrates all the information and processes of an organization right ...
READ MORE +
Cozy ERP is a web-based ERP system for retail and point of sale business. This is leading retail business automation tool helping ...
READ MORE +
Wind ERP is top notch enterprise resource planning platform for the sales force and the management. It helps to improve business ...
READ MORE +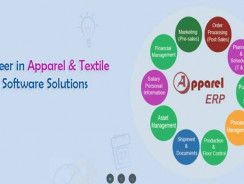 Apparel ERP is comprehensive suite of application that automates the entire operations of the garment manufacturing process with ...
READ MORE +