Tag:

Top 10 Recruiting Software
HR Hotline is an innovative Human resource software that gives customer a new generation experience to manage their end-to-end HR ...
READ MORE +
CipHR software is leading employee management tool that helps organizations attract, engage and retain their workforce more ...
READ MORE +
HR Cloud is leading Human resources software that streamlines hiring Employee engagement, performance evaluation, leave ...
READ MORE +
Cezanne HR is leading human resource management system helps you to manage a global workforce. It is helping mid-sized and ...
READ MORE +
Recruitly is an Applicant Tracking System, CRM, Marketing and Job Distribution software specially designed to manage your ...
READ MORE +
Voyager infinity is a leading is the Best Recruitment Software Online. If you're looking for Applicant Tracking Software, this is ...
READ MORE +
Gethrs offers Recruitment and hiring solution software. Find reviews and pricing of this powerfully integrated solution. Get free ...
READ MORE +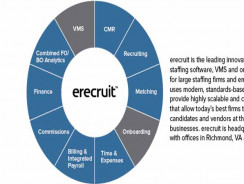 Erecruit is top recruitment software. This recruiting software gives you a fast, easy, unbeatable experience to reach you on ...
READ MORE +
Quikhiring is innovative mobile based app for recruiters and job seekers. This tool helps recruiters to post and search the ...
READ MORE +
Bullhorn Peoplenet provides cloud-based time and attendance management solutions designed for managing today's workforce. It is ...
READ MORE +