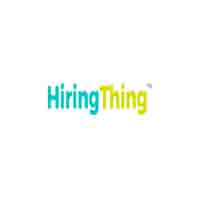 HiringThing recruiting software is simple to use, intuitive online recruitment software that helps to post jobs online, manage applicants and hire employees.
Introduction to HiringThing recruiting software
HiringThing recruitment software is cloud-based ATS software that assists organizations hire. When you use it, posting jobs online, accepting resumes and sorting via applicants gets very simple to oversee. It takes just a few minutes to set up, and what you do with the time you'll save sorting, routing, counting and filing is all up to you.
Key features of our recruiting software
Online job posting
Referral programs
Pre-employment testing
Social integration
Background checks
Video interviews
Form builder
Calendar & scheduling
Onboarding documents
Messaging
Resume import
Applicant tagging
Staffing & multisite versions
Analytics tools
Multiple searches or clients
Job requisition workflow
Activity feed
Permissions that work for you