Shyam Infotech offers a diverse set of CMS development and customization  services which includes all steps of professional CMS system development from design and prototyping to development, implementation and maintenance.
CMS development services includes:
1. Web Content Management System Development
2. Enterprise Content Management System Development
3. CMS Development for B2B and B2C portals
4. CMS Systems for eCommerce solutions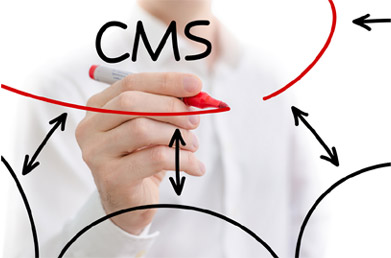 Our software development company has comprehensive skills and proactive business insights for defining your individual and specific requirements. Detailed business analysis performed by our professional team should help you decide either it's better to extend your existing CMS systems with certain functionality or it is reasonable to create a content management system from scratch. In both cases, our development team is ready to share its knowledge and years of experience in this domain.
Benefits of Using our CMS Systems
Cut your website maintenance costs and avoid keeping huge website support team with an availability of convenient web content management system.
Improve your internet and direct marketing efficiency by constant access to an efficient CMS tool for organizing your digital and SEO campaigns.
Keep your website up-to-date by immediate enterprise and business information upload in a user-centered content management system with UI/UX-friendly design.
Protect your website by setting up in your CMS different user rights to your employees.
Taking into account the focus of your business activities, your enterprise goals and tactics aimed at further growth, our IT software development specialists will tailor a ready-made CMS solution to match your business requirements.
Shyam Infotech has the most popular content management systems, .Net technologies in its web application development stack (Joomla, Sitecore, MS SharePoint, Magento, OsCommerce etc.). Our IT development company elaborates and refines them to provide you with custom CMS solutions of various levels from basic web "business cards" to mid-level and high-level enterprise content management systems and ecommerce solutions.
Source : http://mylpsindia.com