CampusLabsTM, an enterprise resource planning (ERP) solution with the maximum comprehensive suite of modules, helps streamline techniques and increase student involvement possibilities in higher educational establishments.
Campus Management
Managing an Educational Institution, whether it is a University, a College or a Business School involves several challenges including:
Growth in students, programs and courses
Multiple admission modes and cycles
Limited teaching staff
Limited physical and financial resources
Changing regulations
CampusLabsTM ERP
CampusLabsTM, an Enterprise Resource Planning (ERP) solution with the most comprehensive suite of modules, helps streamline processes and increase student involvement opportunities in higher educational institutions.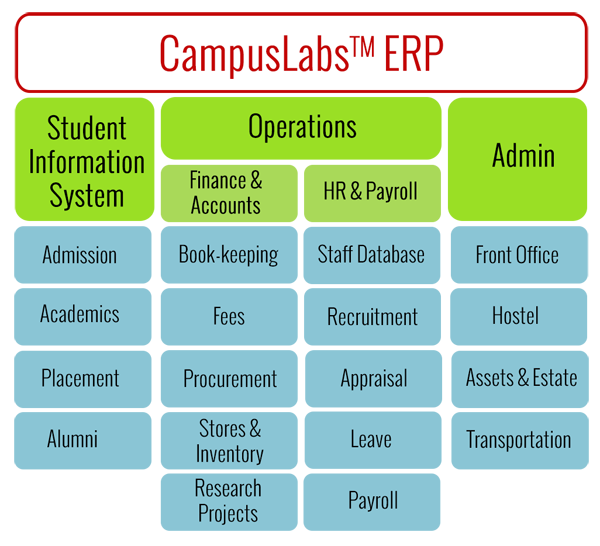 Fulfilling students and staff expectations and meeting regulatory compliance entails integrated and institution wide planning and execution. CampusLabsTM facilitates efficient management of student life cycle, financial accounting and administrative processes. A new generation software developed using opensource components based on open standards, CampusLabsTM is designed to ensure interoperability, data security and scalability.
Deployment Models
We offer flexible licensing and deployment models to suit the preferences of the institutions as follows:
On-Premise: This allows the institution to license the software either on a perpetual license basis or annual license basis and deploy it on the institutions network within the campus or at a data centre of their choice. We also provide turn-key services including deployment of required hardware for high availability.
SaaS: The Software-as-a-Service (SaaS) model of deployment eliminates all worries about hosting and managing the application for the institution. We provide a managed service, assuming complete responsibility to make the system available to the institution 24×7, offering complete security of data with a pricing model that is easy on the pocket of the institution.
ERP Implementation
We understand the importance of implementation services to ensure successful adoption of an ERP System in any institution and have therefore developed a robust delivery framework.Click here to learn more about our delivery framework and services that seek to enhance the client engagement process, ensure adequate communication and assure quality, timeliness and risk mitigation leading to successful implementation and helpdesk support that ensures user adoption.
Product Highlights
A robust Student Information System (SIS)
Streamlines processes and brings in operational efficiency and transparency
Aids in compliance management and report generation
Enhances student involvement through easy access to academic information
Promotes studentsb self-evaluation and progress tracking
Supports decision making through dashboard analytics
Integrates with 3rd party applications such as LMS, Library Systems and Payment gateways.
Source : http://ecoleglobal.com